MY SECRET BRUSSELS TV :: BLOG :: ABOUT :: CONTACT

THE SECRET SHOPS THAT YOU WILL NEVER FIND

My secret concept store: Mr Ego

Here is a great shop for cool clothes hidden down a dingy downtown lane next to Ancienne Belgique. The window displays are always worth a glance and the interior is dotted with odd bits of furniture. It's hard to make sense of the wooden dispaly cabinet by the door filled with curious bits of artwork. Great for shirts, shoes and headphones, not to mention flyers for gigs in local venues.

My secret

design blogs

Stijn Verlinden writes passionately about everything he comes across. It could be a new Delvaux handbag or a fashion event in an abandoned warehouse. Essential reading for anyone interested in cool Belgian design.

No. 494 in The 500 Hidden Secrets of Brussels

02 BEhive »

A smart web magazine on Belgian architecture, design and sustainable living. A good place to find out where to find pop-up shops by Antwerp designers or smart new design ideas from Brussels studios. Not as lively as it was in the beginning.
Heads in the clouds: Mr Ego's window art
mysecretbrussels
the best of food, music, culture and life
No. 164 in The 500 Hidden Secrets of Brussels
My secret shop: Plaizier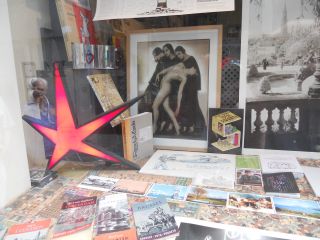 For several decades, Wijnand and Mieke Plaizier have been publishing beautiful
postcards and photo books on Brussels. For anyone interested in this city's story,
Plaizier offers some of the most striking images of how it once looked.
No. 216 in The 500 Hidden Secrets of Brussels
Rue des Eperonniers 50
Central Brussels
My secret recycling shop: Com-Bak-Hom

Deep in the Marolles, a French interior designer runs a shop where she sells
eccentric recycled furniture. The owner comes up with witty ways to salvage old
chairs and tables that would otherwise be thrown into the back of a rubbish
truck.
Rue de Nancy 37
Marolles